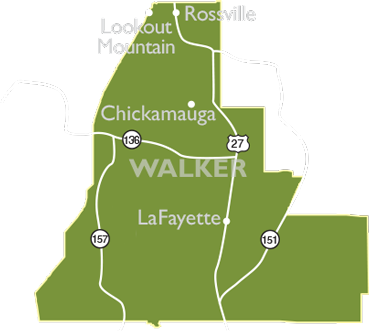 It's not difficult to
"discover your true nature"
in Walker County, Georgia, nestled beneath historic Lookout Mountain.
The county is home to the Scenic Hometown Highway (U.S. Highway 27) and two of Georgia's top 25 tourist destinations, Rock City Gardens and part of the Chickamauga and Chattanooga National Military Park.
A variety of national and international manufacturers have operations in Walker County, Georgia including one of the world's largest carpet manufacturers, Shaw Industries. Other manufacturers having a presence in Walker include General Electric's Roper Division and Nissin Brake.
This Northwest Georgia county, which borders Tennessee, is home to the cities of Chickamauga, LaFayette, Lookout Mountain, and Rossville. In addition to manufacturing and automotive suppliers, agriculture is a top industry in Walker County, Georgia with farms occupying 30 percent of the county's land. The county is home to more than 600 farms whose leading products are beef cattle, dairy cattle, poultry, and row crops.
For more information on Walker County, please visit their local development authority's website at walkergada.us
People

Demographics
Population
67,742
Population change 2010 to 2020
-1.6%
Age
Persons under 5 years, percent, 2023
5.3%
Persons under 18 years, percent, 2023
20.5%
Persons 65 years and over, percent, 2023
20.1%
Gender
Female persons, percent, 2023
50.3%
Male persons, percent, 2023
49.7%
Race
White, percent, 2023
88.1%
Black or African American, percent, 2023
4.5%
American Indian and Alaska Native, percent, 2023
0.3%
Asian, percent, 2023
0.5%
Native Hawaiian and Other Pacific Islander, percent, 2023
0.1%
Two or More Races, percent, 2023
5.4%
Hispanic or Latino, percent, 2023
2.7%
Education
High school graduate or higher, percent of persons age 25+
86.6%
Bachelor's degree or higher, percent of persons age 25+
21.6%
Commuting
Mean travel time to work (minutes)
31.3
Homeownership & Income
Homeownership rate, 2023
65.2%
Households, 2023
26,331
Per capita money income in past 12 months, 2023
$28,347
Median household income, 2023
$48,681
Median value of owner-occupied housing units, 2023
$182,695
Labor

| | |
| --- | --- |
| Labor Force | 30,019 |
| Employed | 28,698 |
| Unemployed | 1,321 |
| Unemployment Rate | 4.4% |
| Average Goods Producing Weekly Wage | $850 |
| Average Service Providing Weekly Wage | $805 |
Sources: Georgia DOL County Labor Profiles; Esri 2023