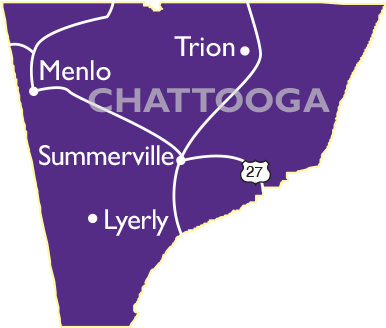 Known for being the longtime home of folk artist and country philosopher Howard Finster
and for being the place where famed Cherokee Indian Sequoyah developed a written alphabet for the Cherokee language, Chattooga County, Georgia borders the state of Alabama.
Another notable resident is attorney
Bobby Lee Cook, who served as a judge,
a state senator from 1957-58, and a
member of Georgia House of
Representatives from 1949-50.
The county is home to the cities of Lyerly, Menlo, Summerville and Trion. Summerville is its county seat.
Mohawk floor coverings and Mount Vernon Mills apparel are represented in Chattooga County. In fact, Mount Vernon Mills is considered the "oldest continuously
operating manufacturing plant in the Southeast," according to Jeff Mullis of Northwest Georgia Joint Development Authority (Site Selection magazine View
from the Top May 2013).
People

Demographics
Population
24,955
Population change 2010 to 2020
-4.1%
Age
Persons under 5 years, percent, 2023
5.3%
Persons under 18 years, percent, 2023
20.5%
Persons 65 years and over, percent, 2023
20.0%
Gender
Female persons, percent, 2023
48.9%
Male persons, percent, 2023
51.1%
Race
White, percent, 2023
80.1%
Black or African American, percent, 2023
10.1%
American Indian and Alaska Native, percent, 2023
0.4%
Asian, percent, 2023
0.4%
Native Hawaiian and Other Pacific Islander, percent, 2023
0.0%
Two or More Races, percent, 2023
5.2%
Hispanic or Latino, percent, 2023
5.6%
Education
High school graduate or higher, percent of persons age 25+
75.4%
Bachelor's degree or higher, percent of persons age 25+
12.4%
Commuting
Mean travel time to work (minutes)
26.0
Homeownership & Income
Homeownership rate, 2023
62.1%
Households, 2023
9,556
Per capita money income in past 12 months, 2023
$22,150
Median household income, 2023
$38,771
Median value of owner-occupied housing units, 2023
$86,181
Labor

| | |
| --- | --- |
| Labor Force | 8,734 |
| Employed | 8,393 |
| Unemployed | 341 |
| Unemployment Rate | 3.9% |
| Average Goods Producing Weekly Wage | $895 |
| Average Service Providing Weekly Wage | $687 |
Sources: Esri 2023; GA Department of Labor Area Labor Profile