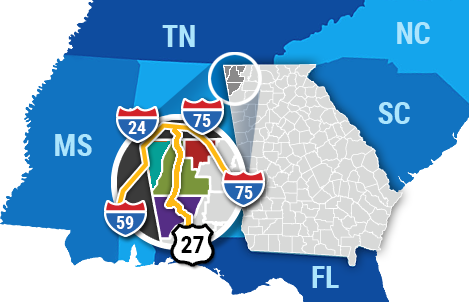 "Georgia's upper left hand corner offers superior accessibility, stunning vistas and a work force primed for the manufacturing renaissance."
View from the Top Investment Profile,
Site Selection magazine.
At the Top of Georgia, economic development is led by the Northwest Georgia Joint Development Authority. Located just minutes from Chattanooga, Tennessee, one of the Southeast's most ambitious cities, the Northwest Georgia JDA is ideally placed to work locally, regionally, and beyond. Comprised of the Catoosa, Chattooga, Dade and Walker Counties, Northwest Georgia has much to offer potential businesses and residents. In addition to breathtaking scenery, deep history, strong roots, high performing schools, top healthcare facilities and a low cost of living, these "Pro Business" counties are ideally located on or near three of the nation's interstates (I-75, I-59, and I-24) and "The Scenic Hometown Highway," U.S. Highway 27. Northwest Georgia also has an abundant access to water sources in the area.
Less than two and a half hours from the three major Southern cities of Atlanta, Nashville and Knoxville, Northwest Georgia offers easy access to rail systems and commercial airports, a highly skilled workforce, top higher education opportunities at technical colleges as well as research universities. While Northwest Georgia is within the metropolitan statistical area (MSA) of Tennessee's fourth largest city, Chattanooga, our counties are all located in the right-to-work state of Georgia.
Each of these characteristics weave together to make Catoosa, Chattooga, Dade and Walker counties a great place to live, work and play.
Explore this site to learn more about why Northwest Georgia is the best place in the Southeastern U.S. for your manufacturing or distribution business. For more information, contact the Northwest Georgia Joint Development Authority at 706.375.5793.