Regional Map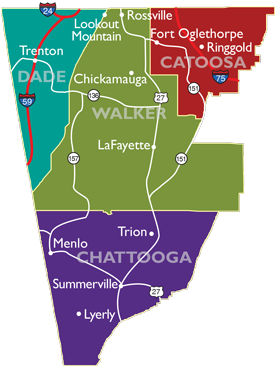 The world is literally at the doorsteps of the Northwest Georgia Joint Development Authority counties
with their excellent transportation network, which includes easy access to interstate highways 24, 59 and 75, rail, international airports and seaports. Bordering the states of Tennessee and Alabama expands this area's opportunities.
Transportation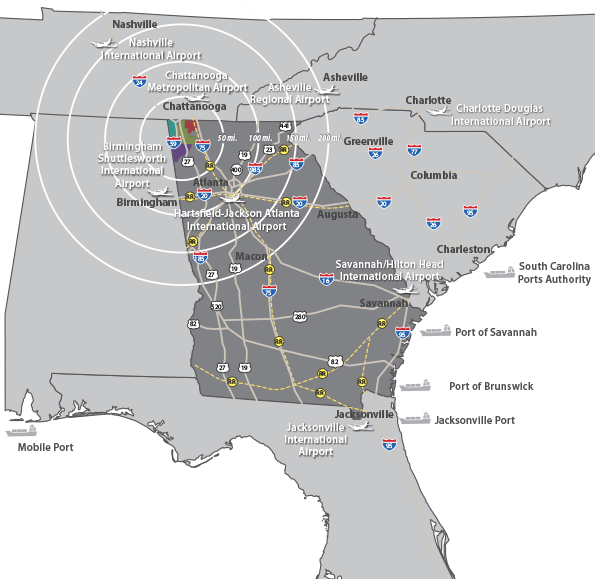 The three interstates of
I-24, I-59 and I-75 as well
as U.S. Highway 27 are either nearby or running through Northwest Georgia,
connecting the area to Chattanooga, Tennessee and the rest of the Southeastern U.S. A CSX main railway line and Norfolk Southern rail line travel through Northwest Georgia, and a commercial airport is as close as Chattanooga's Airport. Less than two hours from Northwest Georgia is
Hartsfield-Jackson Atlanta International Airport, while Birmingham (Alabama) International Airport, Huntsville (Alabama) International Airport and Nashville International Airport are about two and
a half hours away.
In addition, the Port of Savannah is
easily accessible by rail or highway
from Northwest Georgia.
Milieage from Northwest Georgia

| | Catoosa County, GA | Chattooga County, GA | Dade County, GA | Walker County, GA |
| --- | --- | --- | --- | --- |
| Atlanta, GA | 101 | 89 | 126 | 101 |
| Birmingham, AL | 162 | 130 | 127 | 142 |
| Knoxville, TN | 110 | 147 | 133 | 134 |
| Nashville, TN | 148 | 170 | 130 | 155 |
| Macon, GA | 183 | 173 | 220 | 184 |
| Memphis, TN | 357 | 305 | 335 | 314 |
| Charlotte, NC | 323 | 319 | 365 | 316 |
| Savannah, GA | 356 | 337 | 387 | 349 |
| Mobile, AL | 416 | 382 | 380 | 394 |
| New Orleans, LA | 501 | 474 | 466 | 486 |
| Wilmington, NC | 522 | 505 | 554 | 517 |
| Tampa, FL | 553 | 544 | 590 | 556 |
| Chicago, IL | 615 | 608 | 600 | 596 |
| Washington, DC | 594 | 632 | 618 | 620 |
| Miami, FL | 770 | 749 | 797 | 761 |
| Dallas, TX | 799 | 756 | 767 | 768 |
| New York, NY | 814 | 852 | 836 | 836 |
| Denver, CO | 1,303 | 1,324 | 1,285 | 1,309 |
| Los Angeles, CA | 2,150 | 2,099 | 2,132 | 2,155 |
Source: Mapquest